Choose From Great Aussie Destinations!
By sending 10 work orders to Capital Plumbing in August, your agency will receive a complimentary accommodation voucher for 4 Days / 3 Nights. This voucher entitles you to complimentary hotel or resort accommodation in any one of a number of idyllic Australian & overseas destinations.
This exciting holiday giveaway aims to help Australia's struggling Tourism Industry whilst giving you the chance to get away and explore our local treasures.
As you can see below, you're spoilt with choice when it comes to choosing your "complimentary vacation" location. This is your chance to relax & unwind & enjoy the break you deserve!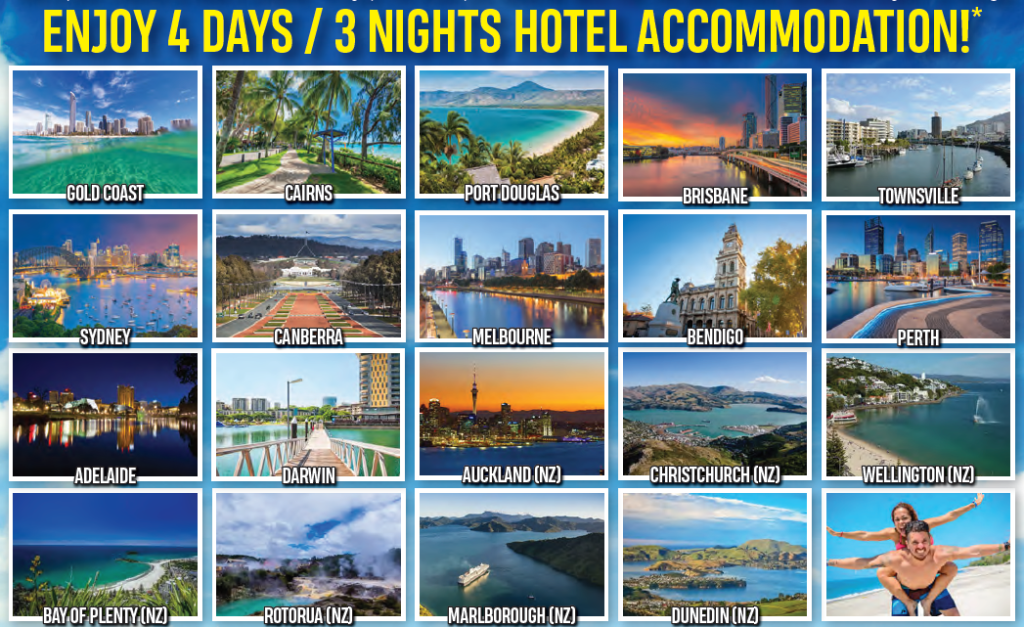 How to earn your holiday voucher:
Send Capital Plumbing 10 work orders from your agency in August 2021.
Capital Plumbing will tally the jobs of participating agencies up at the end of the month and send you your voucher.
The more work orders, the more holidays you can share with your team.
Get ready to discover getaways perfect for a long weekend away or mini holiday. Email your plumbing work orders to info@capitaltrades.com.au. We are looking forward to hearing from you in August.
Destinations are subject to change based on availability and the pandemic environment.
**IMPORTANT** It is important that you check with your Manager or Principle first to confirm you may participate in this promotion.  Some agencies have policies that mean participation in promotions such as these is prohibited.
FREE HOLIDAY VOUCHER GIVEAWAY
Giveaway Terms & Conditions
To enjoy this complimentary accommodation, you are required to pay the nightly "booking & service fees" per room for that destination, which are AUD$33 per night. For example, if you were to stay at a Gold Coast hotel for 3 nights & the nightly "booking & service fees" were $33, you'd pay $33 x 3 nights = AUD$99.

Keeping in mind that the rack rate for many of the hotels is likely to be around $200 to $350 per night, depending upon the season – so 3 nights might normally be valued at $600 to $1,050.
Please appreciate that the hotel accommodation is subject to availability & the user must reside at least 160 km away from the hotel of their choice.


When you go through the online booking system, you'll immediately see "which" hotels are available for the dates you choose. Should you wish to include a "peak night" (Friday or Saturday), there's may be a modest surcharge per night.
Activate online by prepaying the hotel bookings and service fees associated with the destination. 

After activation, log in online and search for your preferred participating resort/hotel and preferred travel dates.

When you follow the booking procedure shown on your Vacation Accommodation Voucher, you'll go to 

www.choosemyholiday.com

& select your destination (e.g., Gold Coast).

Once you do this, you'll receive an email from  Redeem Vacations, notifying you of the need to "activate" your voucher by paying the booking & service fees within seven days.
There must be at least one year gap between each vacation booked through RedeemVacations.com

 by any person or family 

If you have more than one vacation incentive, the others cannot be used back to back in the same or different destinations.
Travel can be completed within 18 months after activation. 

Travel to & from your chosen hotel or resort is not included.

The destinations may alter from time to time due to hotel ownership or management changes – or any of numerous other reasons. So please understand that the destinations & hotels shown on our web pages & advertising are "samples" & are subject to change. And understandably, COVID has significantly impacted specific destinations in terms of "room availabilities", so our program needs to be flexible in this regard.
Group travel is not allowed – only one incentive per household and resort/hotel is permitted.
Most rooms are for 2 to 4 occupants based on room type and availability, and at least one occupant must be at least 21 years of age. W

e cannot guarantee that all

 hotels will cater for children. "Some" hotels choose not to; it's a case of selecting hotels or resorts that suit your circumstances.

This incentive will receive a luxury hotel accommodation room rate free of charge, which retail is valued at up to AUD $350 per night. However, the recipient is responsible for all other expenses, including but not limited to: airfare, transfers, food & beverages, gratuities, resort fees if applicable and any other personal or miscellaneous expenses. If applicable, the resort fees will be disclosed when choosing a hotel and preferred travel dates. (Resort fees cover items like 

WiFi Internet Access, Local Calls, & Resort amenities.)

All reservations require a minimum of 30 days advance notice to book.
Reservations are based on availability, and understandably rooms are less likely to be available at peak vacation periods like Easter, Christmas & School Holidays. 

A few hotels have a higher "Friday/Saturday surcharge" due to their location being in high demand, so please check.

This incentive activation is FINAL & NON-REFUNDABLE. Once travel dates are confirmed, no changes will be allowed.
Cancellations after dates are confirmed will result in forfeiture of the activation fees. (The inventory used for these rooms are not as flexible as booking at regular retail rack rates, so once confirmed, changes will not be allowed, and cancellations or no-shows will result in forfeiture of fees paid)
The user must reside at least 100 miles or 160 kilometres away from the destination resort of choice.
Remember, the participating hotels are providing this extraordinary "accommodation deal" because they hope to get "a financial return" via guests buying food, beverages, room service, spa treatments & tours etc., whilst at the property. 

If "locals" were to avail themselves of the "free accommodation", it's likely they'd simply buy food & beverages locally (or bring them from home!).

This incentive has no cash surrender value, is void if discontinued and where prohibited by law. The terms of this offer are subject to change without notice. RedeemVacations.com

 reserves the right to offer other hotels with equal or similar value with incentive holder approval if required due to availability. 

Do not rely upon representations other than what is noted here.

To redeem, simply activate the incentive online and then search online at RedeemVacations.com

 for the destination of choice and participating resort/hotels and travel dates.

Promotion period: 8.00am 01st Aug 2021 to 5.00pm 31st Aug 2021.
Booking & Service fees apply with this accommodation offer — AUD $33 per night.
 Fun escape terms can be viewed here – T&C'S – Fun Escapes